28.10.2022—14.1.2023
Baaderstraße 56 C
Spinning Six Decades. Part II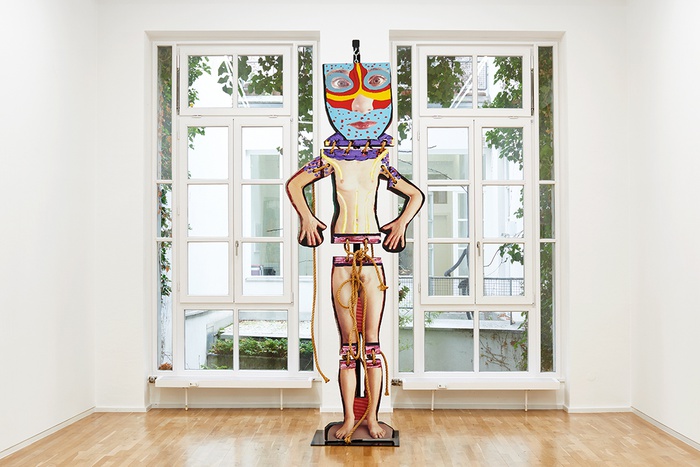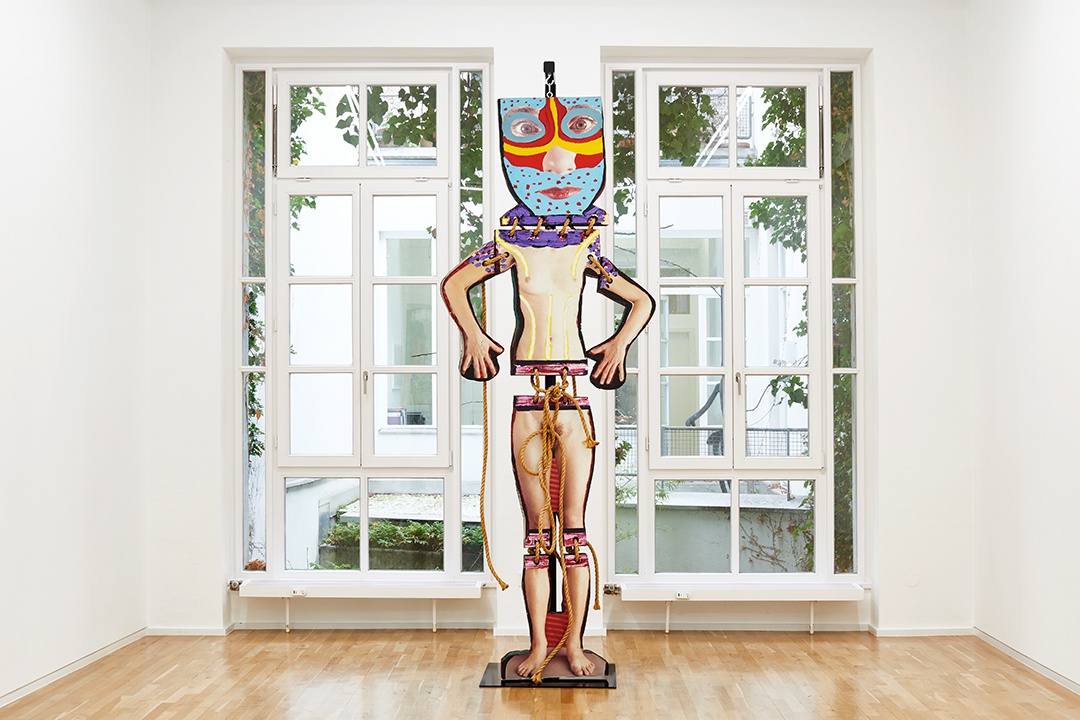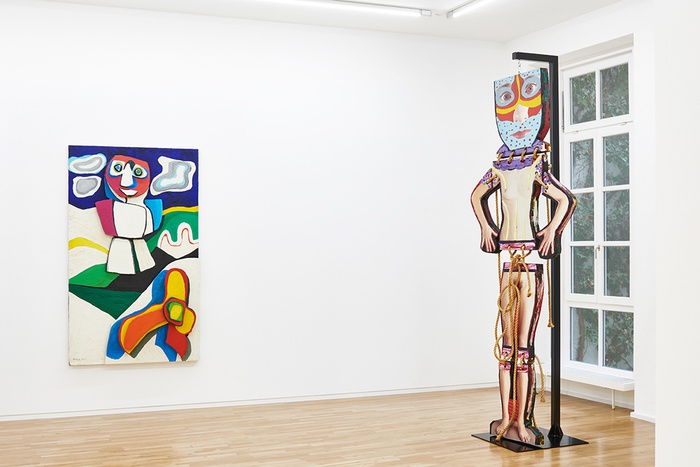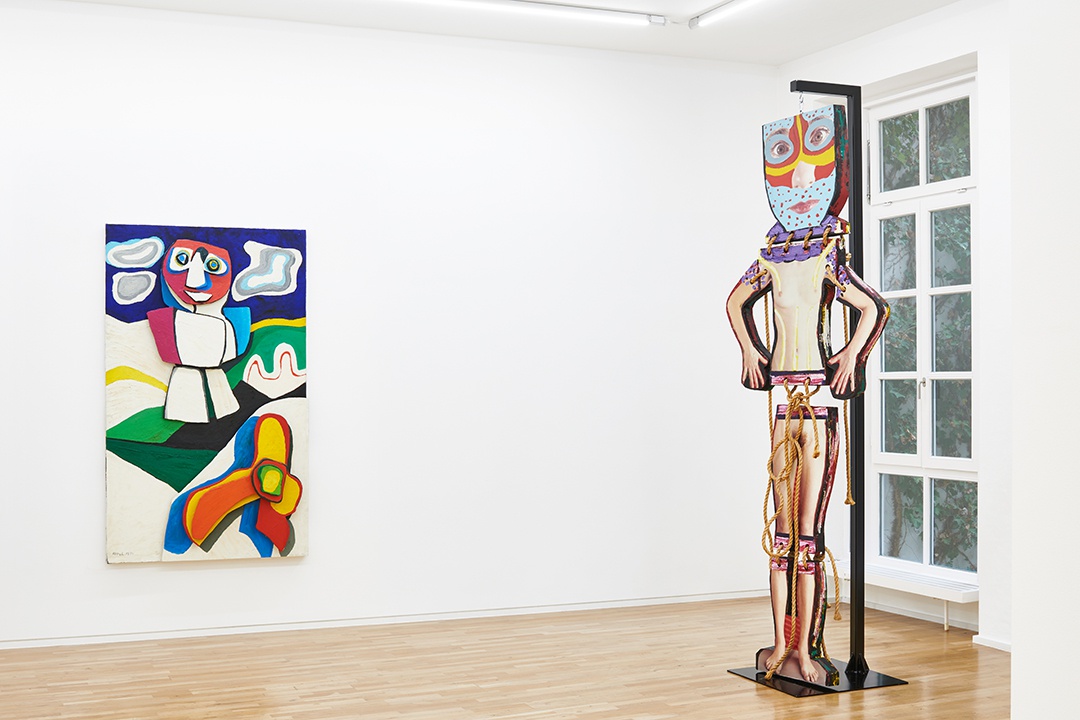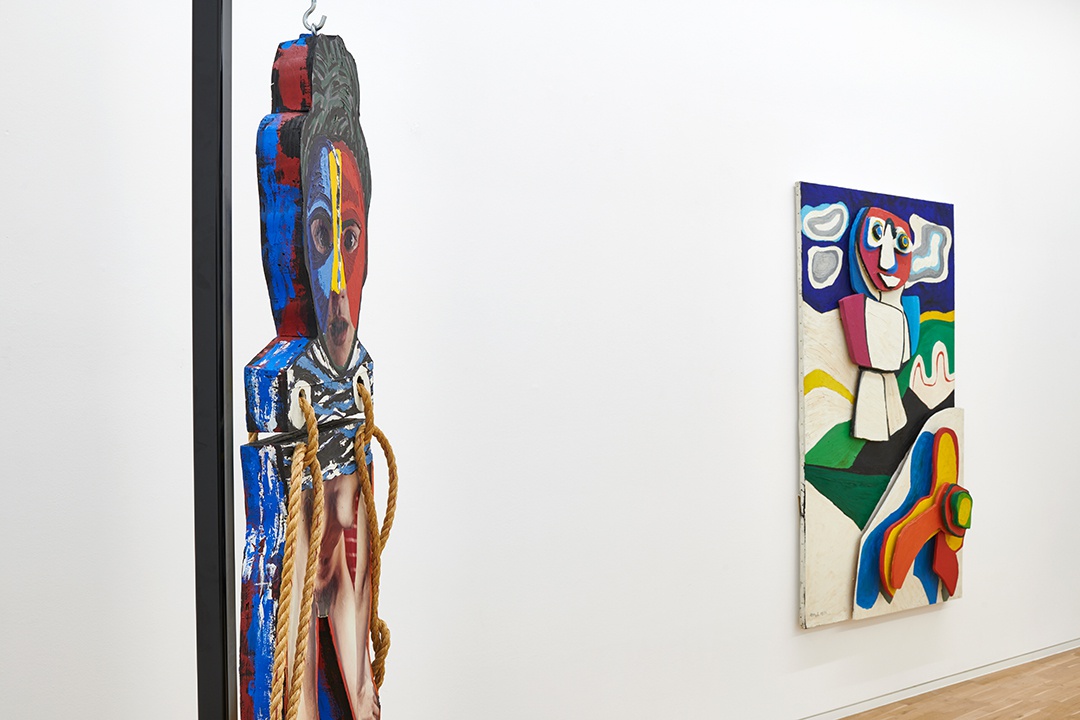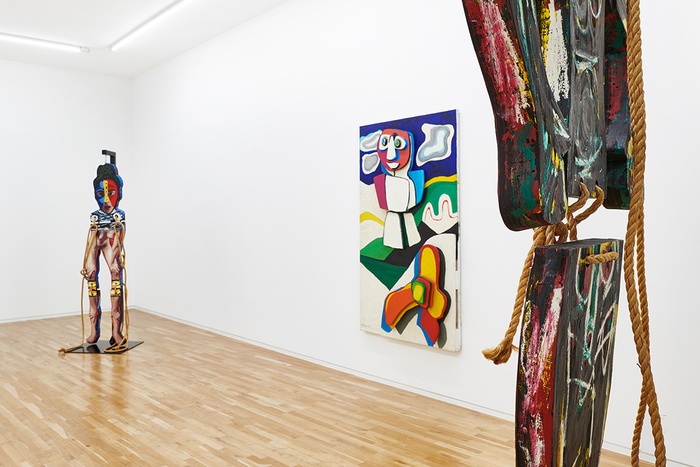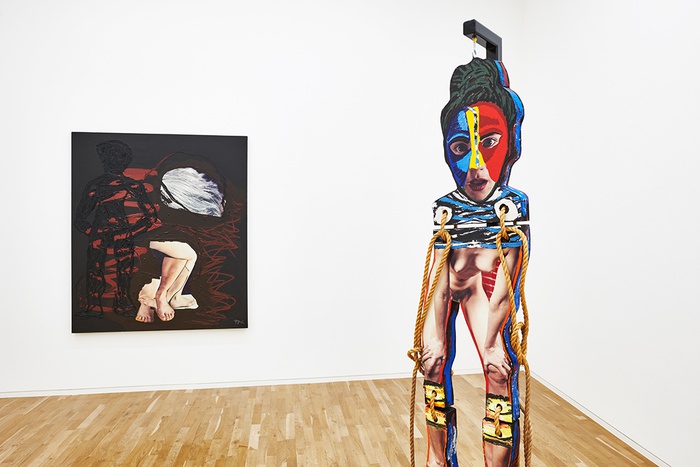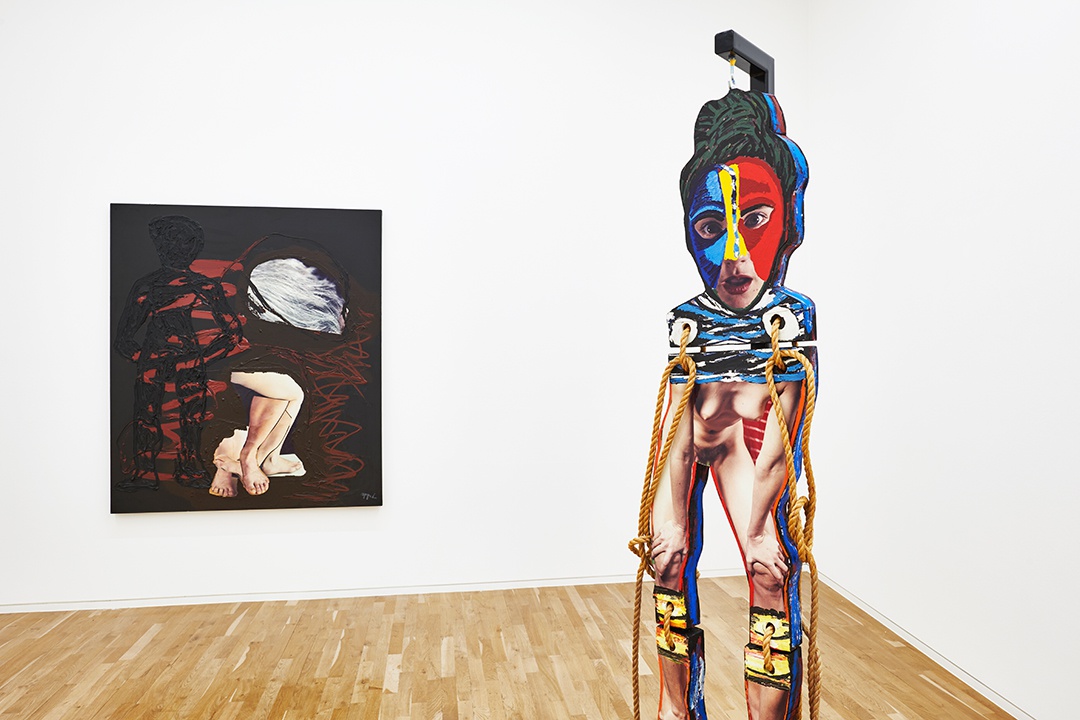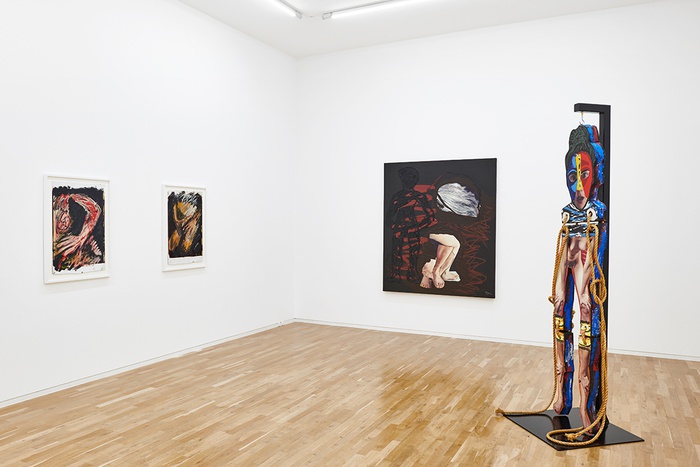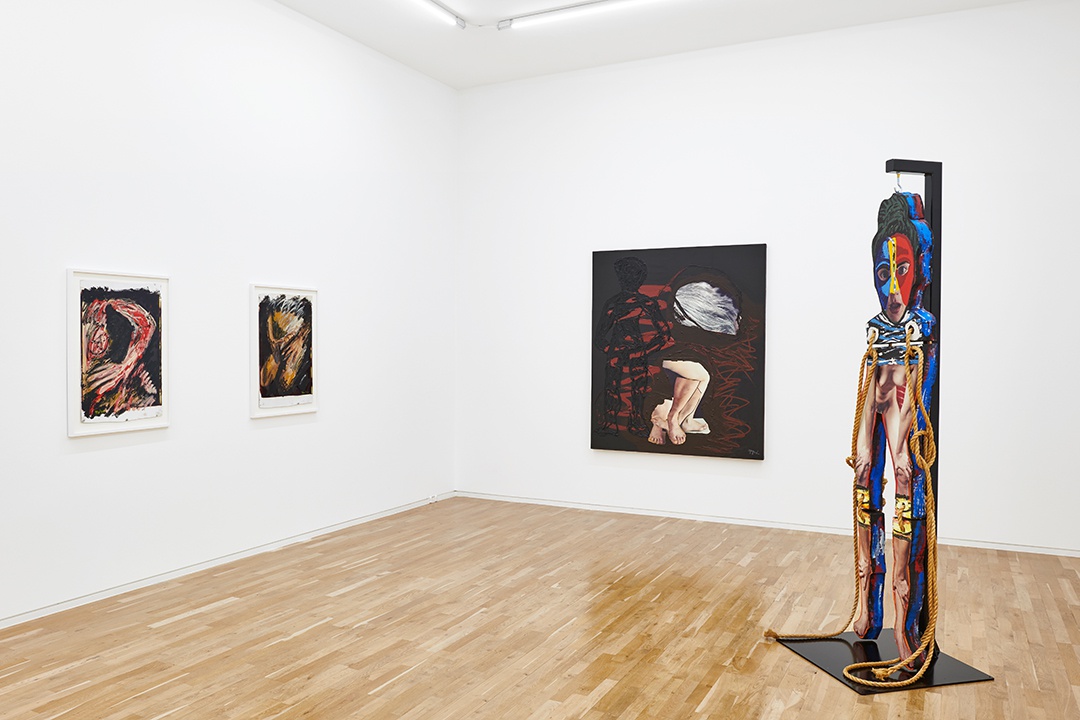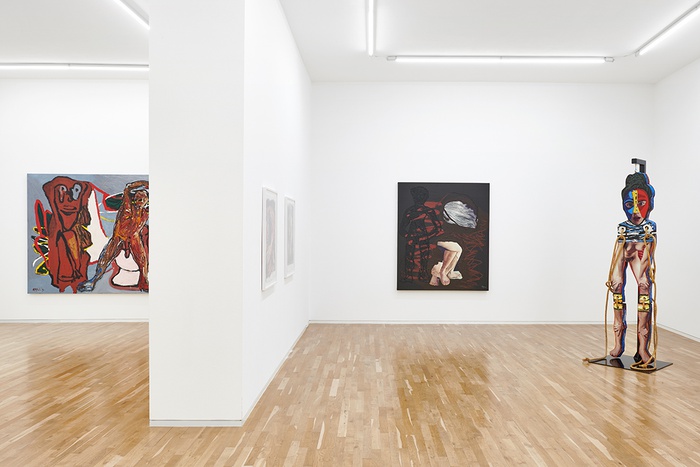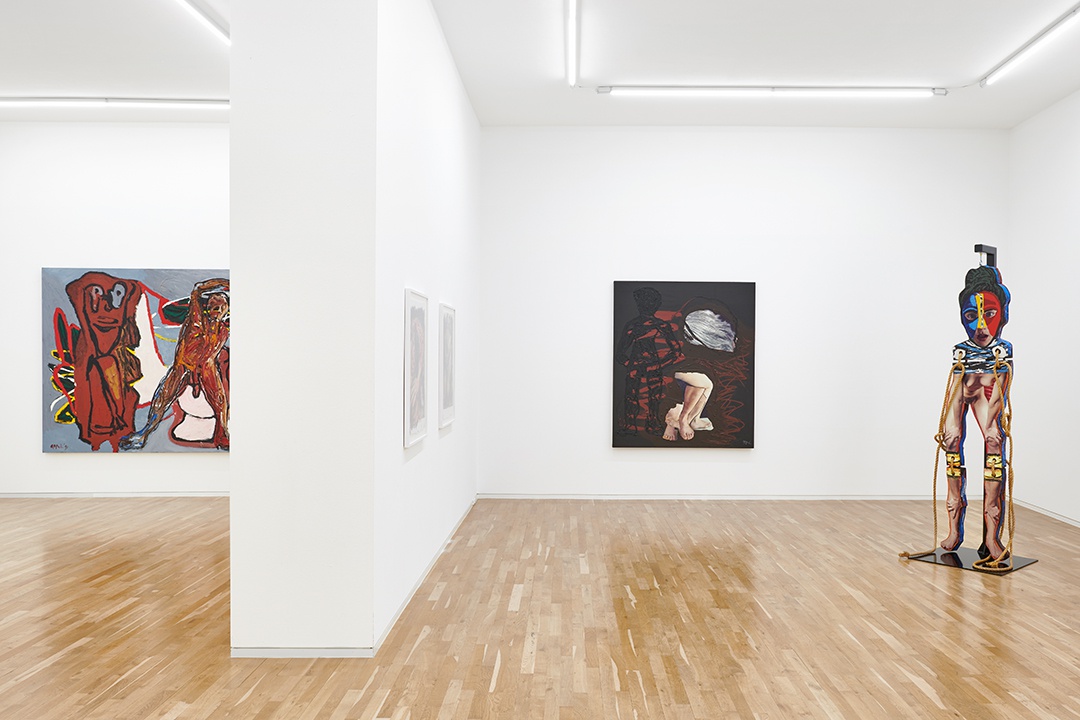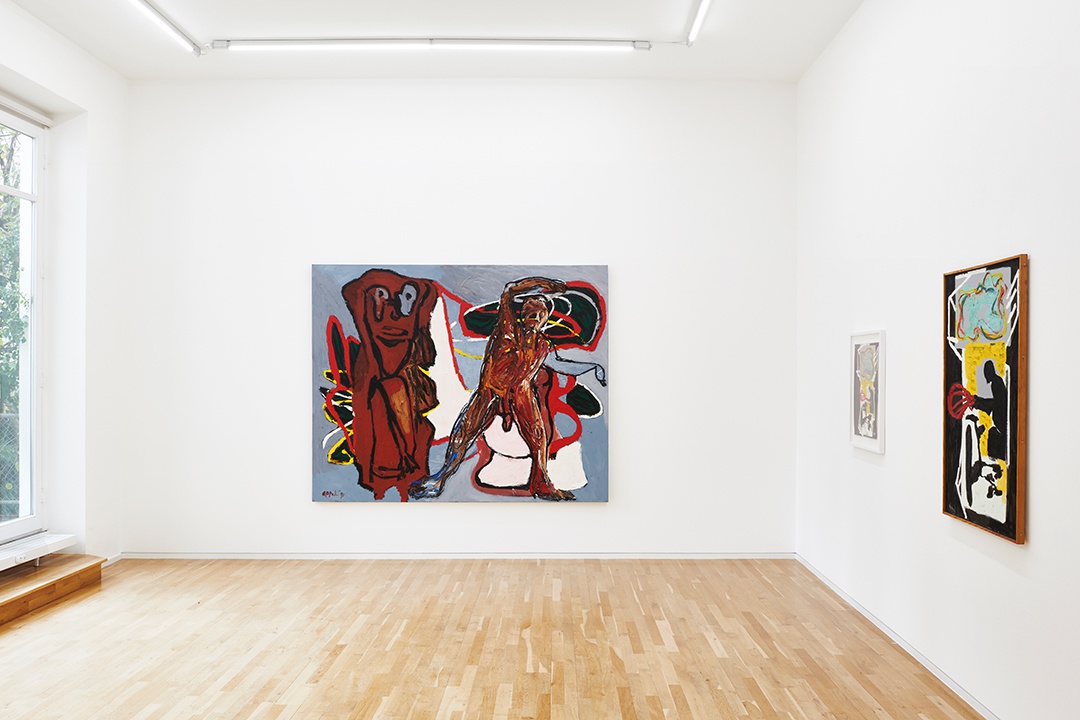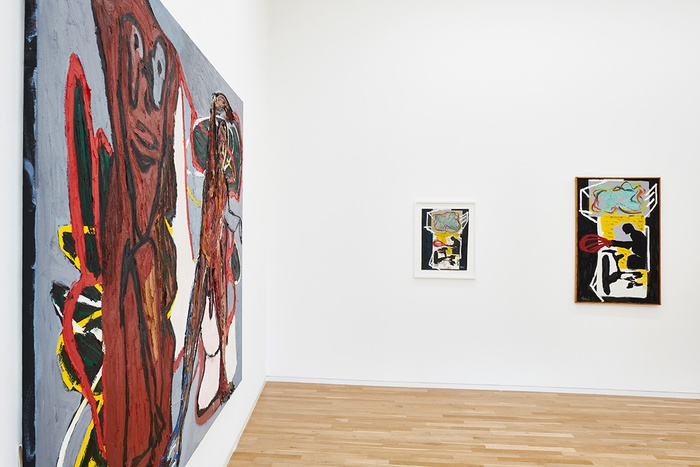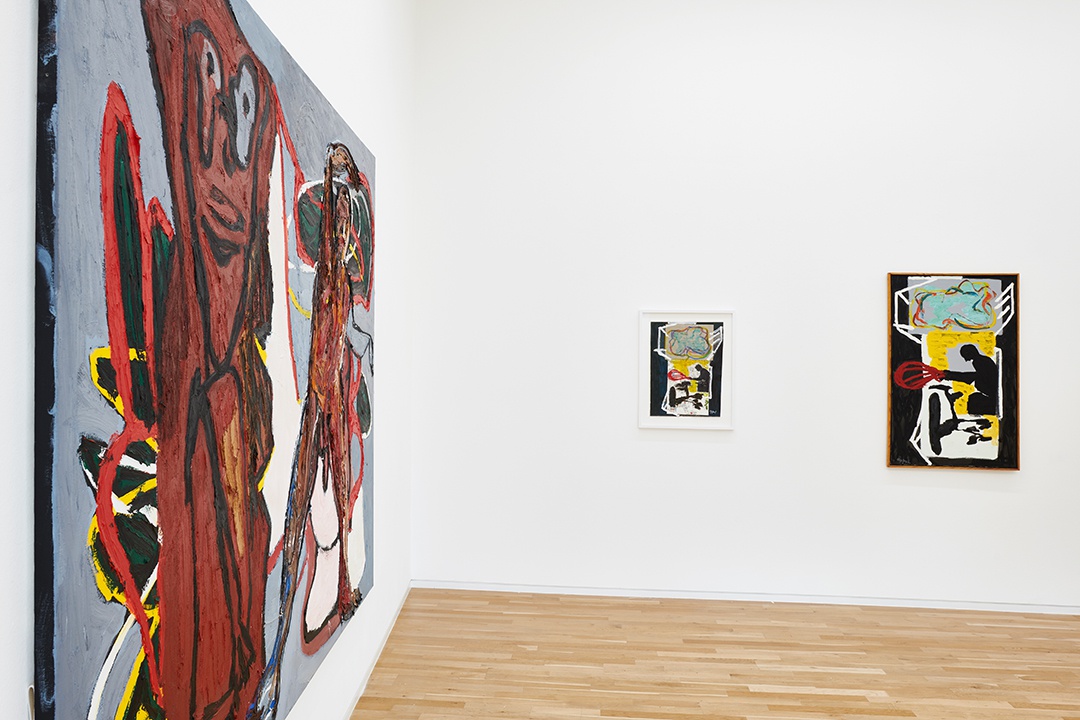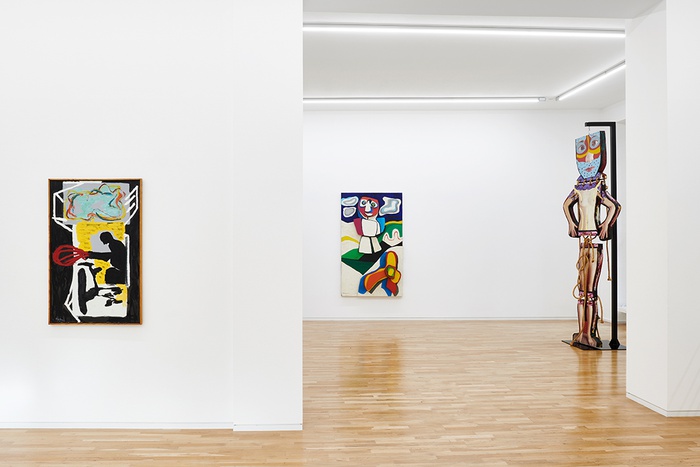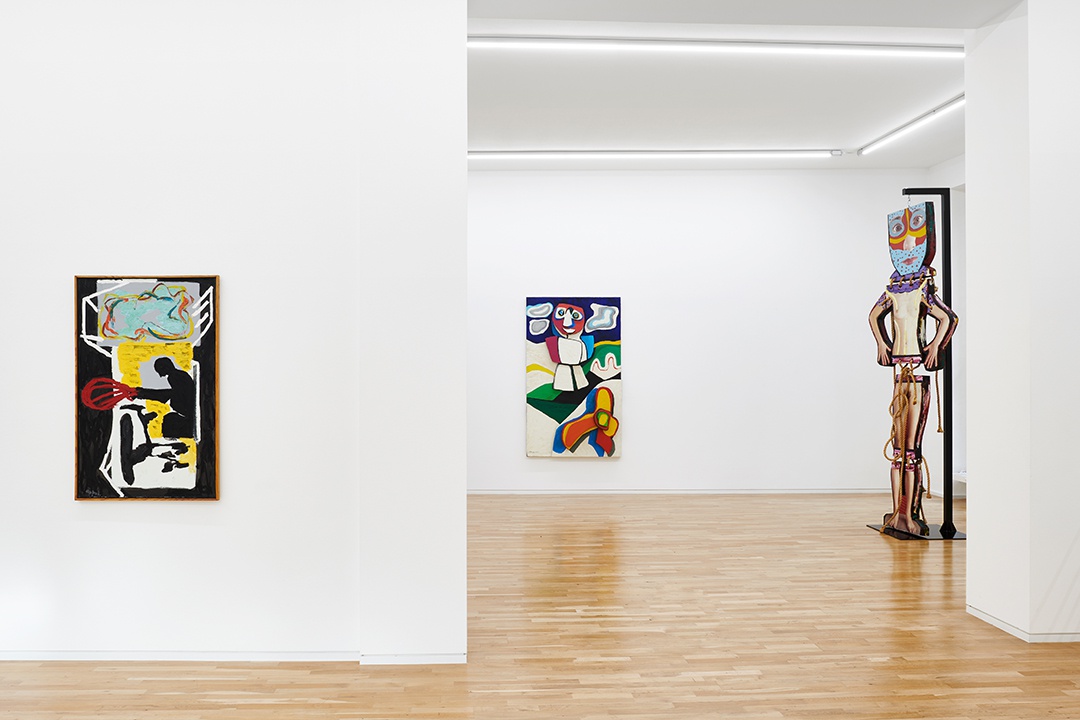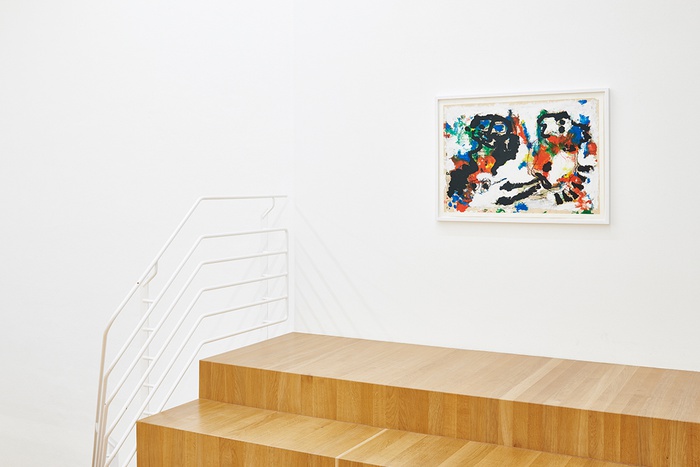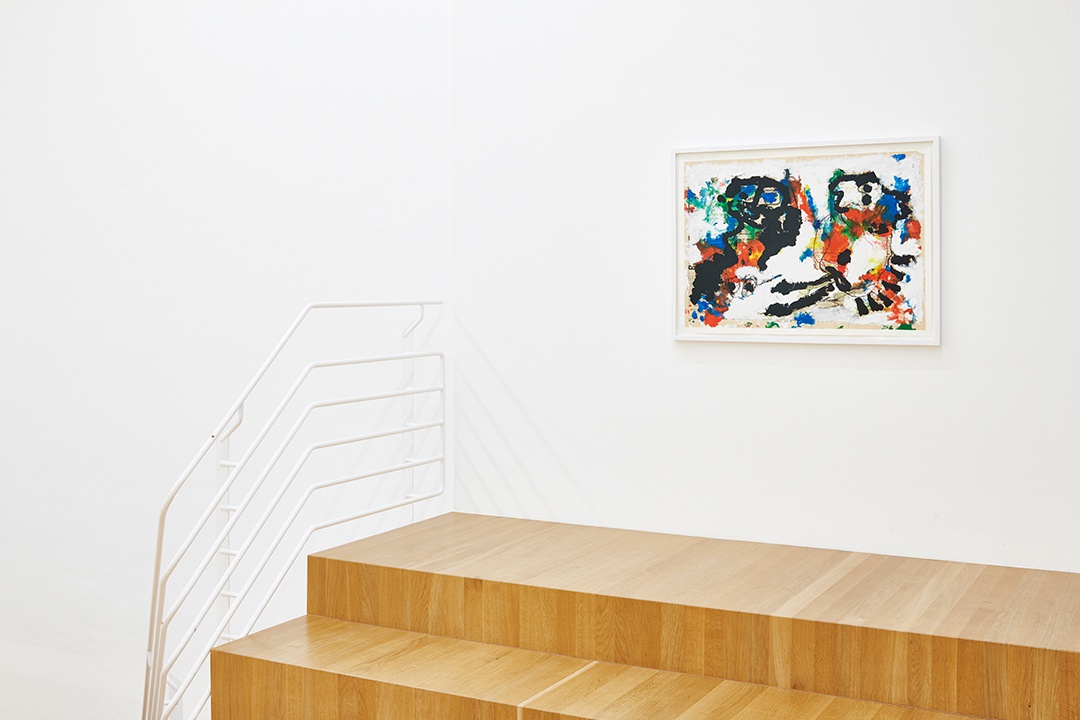 Franz W. Kaiser on Karel Appel
From October 28 to December 17, 2022 (extended until January 14, 2023), Jahn und Jahn in Munich is presenting a review of the drawing oeuvre of Karl Appel (1921 Amsterdam - 2006 Zurich). A founding member of the international group CoBrA, Appel is among the outstanding artists of his period, and contributed to the renewal of art after 1945.
Appel's paintings, usually large in format, combine figuration and abstraction. In brilliant colors applied in impasto, they feature fantastic and humorous elements imbued with irrepressible energy. The artist was inspired, on the one hand, by outsider art and children's drawings, by artists like Paul Klee, Kurt Schwitters and Pablo Picasso. In the 1961 documentary film The Reality of Karl Appel he is shown energetically flinging, splashing and trowelling paint on a canvas, a process that has parallels with American Action Painting (1). In 1948, with artist friends including Corneille, Constant and Asger Jorn, Appel formed a group they called CoBrA. They set out to challenge academic and social norms. The following years, with the encouragement of Michel Tapié, brought a international context related to art informel with artists such as Jackson Pollock and Willem de Kooning, from the first generation of the New York School, and with Sam Francis, Wols, Marc Tobey, Henri Michaux, Georges Matthieu, and many others.
Appel a painter in the first place created a long line of works on paper, assemblages of materials, objects, ceramic reliefs, tapestries and glass windows, extending the traditional definition of sculpture to include painting in three dimensions. His experimental collages and assemblages contain a heterogenous mixture of materials such as found objects, pieces of wood, torn cardboard, gouache, acrylic, crayon and tinfoil. Appel's approach, seen against the background of the Nouveaux Realistes, founded in 1960 in Paris, and the predecessors of Pop Art Jasper Johns and Robert Rauschenberg, who became popular in Europe in the early 1960s, permitted of multifarious readings. Its emphasis on tangible qualities reflected the physical exertion that played a key role in the emergence of the works.
For Appel, drawing was not merely an offshoot or handmaiden to painting. Here, his intuitive painting gestures were applied to singular motifs. Taking a closer look at this aspect of Appel's activity enables a fresh rediscovery of the world-renowned artist's work. In addition, it continues the history of the Fred Jahn gallery, which has from the beginning focused on this medium and encouraged a concern with its significance.
The exhibition "Karel Appel: Spinning Six Decades" at Jahn und Jahn in Munich brings together 35 drawings in various techniques and formats, including several rarely or never yet shown pieces, supplemented by two larger-than-life figurative sculptures and selected paintings. The earliest drawings date to 1947, before CoBrA was founded and Appel moved from Amsterdam to Paris. The most recent work on display was done in 1999, seven years before his death. The 1947 drawings selected for the show strikingly attest to Appel's struggle to shed what he had learned. The skilled draftsman hoped to recover an unbiassed eye, not hemmed in by artistic conventions and norms. He scribbled on and scratched through the paper surface, adopting the enormous power and specific character of spontaneous children's drawings. He struggled to recover the innocence of children, as he described in a letter to Corneille in 1947: "I work through day and night... why? So I can overcome the 20th century, get away from Picasso, powerful in color; I have broken through the wall of abstraction, of surrealism" And later in the same letter: "Don't come visit me for a while, no time except for strenuous work, throwing everything overboard, your friend Karel."(2)
By working through and overcoming the accomplishments of the avant-garde that had paved the way for non-objective art, he succeeded in establishing a new, expressive visual language that must have struck his contemporaries as incredibly impulsive, awkward and raw. Unlike Abstract Expressionism of the American variety, Appel's work never crossed the threshold into pure abstraction. During the 1950s the figurative references receded somewhat, without entirely disappearing as they did with Pollock. Based on a profoundly humanistic stance, Appel focused on the forms of semi-abstract figurations, devoting all of his artistic efforts to shaping an individual approach beyond stylistic definitions and cultural traditions.
The exhibition covers the entire range of Appel's drawing oeuvre. While some drawings are linked with wall pieces and paintings, others have the effect of finger exercises. Yet each is an autonomous composition, essentially determined by the choice of medium, the size of the sheet, and the surface character of the paper. Frequent pieces in gouache, Indian ink, watercolor and colored chalk were later supplemented by works in oil sticks, tempera and acrylics. Surprising in this context are the overpainted close-up photographs from the year 1988, from the artist's polaroid portrait series. Taken with a Polaroid 20 x 24 camera at the renowned New York studio of John Reuter and Eelco Wolf, who had collaborated with Chuck Close, Robert Mapplethorpe and Andy Warhol, these are large-format instant close-ups of female nudes. Two "Standing Nudes" of 1987, polaroids connected by cords to form a single figure, supplement the presentation. These reflect Appel's unconcern with categorizing his works as sculptures, paintings or drawings, and also his rejection of repetition and continual questioning of his own artistic routine and practice.
All of the works on show were provided by the artist's estate. We are especially grateful to Harriet Appel, Franz W. Kaiser, and Antonien Rijksen of the Karl Appel Foundation for their outstanding support in helping us select the works and organize the exhibition.
(1) De werkelijkheid van Karel Appel / The Reality of Karel Appel, directed by Jan Vrijman, 1961,15 min., German and French.
(2) Letter by Karl Appel to Corneille, December 2, 1947; quoted in Cobra 1948-1951, ed. by Uwe M. Schneede, exh. cat. Kunstverein Hamburg, Hamburg, 1982, p. 13.
Karel Appel (1921 Amsterdam – 2006 Zurich), lived and worked in Europe and USA; 1942–1944 Rijksakademie Amsterdam; 1948 founding member of CoBrA; 1954 received the UNESCO Prize at the XXVII. Venice Biennale; 1956 commission for a mural for the new restaurant of the Stedelijk Museum in Amsterdam; 1958 execution of a mural for the UNESCO building in Paris; 1959 and 1964 participation in the documenta II and II in Kassel. Selected awards: 1959 International Award for Painting at the Fifth São Paulo Biennial; 1960 Guggenheim International Award; 1968 and 1999 receives two Dutch royal awards (Ridder in de Orde van Oranje-Nassau, Ridder der tweede graad Commandeur in de orde van de Nederlandse Leeuw); 2003 receives the French Légion d'Honneur in the grade of Officier. 1999 founding of the Karel Appel Foundation in Amsterdam.
Selected solo shows: 1953/1984/2005 Palais des Beaux Arts, Brussels; 1954 Martha Jackson Gallery, New York; 1955/1965/1981/2001 Stedelijk Museum, Amsterdam; 1957 Institute of Contemporary Art, London; 1960 Guggenheim Museum, New York; 1961 San Francisco Art Museum; 1966 Moderna Museet, Stockholm; 1977 Museo de Arte Moderno (Mexico City; 1982 Museum Boymans van Beuningen, Rotterdam; 1982/1990/2001/2005 Gemeentemuseum, The Hague; 1989 The National Museum of Art, Osaka; 1994 The National Museum of Contemporary Art, Seoul; 2007 Albertina, Vienna; 2015 Musée National d`Art Moderne Centre Georges Pompidou, Paris.
Karel Appel died on May 3, 2006 in Zurich and was buried at the Père Lachaise Cemetery in Paris. Works by the artist are in numerous international museums and collections. Appel's last two solo exhibitions at Jahn and Jahn in Munich took place in 2021 and 2018 and were dedicated to the collages in the artist's œuvre.
Selected bibliography:
Karel Appel. Collages 1957–1968, ed. by Jahn und Jahn, with texts by Franz W. Kaiser & Nadine Seligmann, exh. cat. Jahn und Jahn, Munich; Cologne 2021, 148p.
Karel Appel. Life-size and larger, with texts by Franz W. Kaiser, Rudi Fuchs, Karel Appel & Eelco Wolf, exh. cat. Eenwerk Gallery, Amsterdam; Amsterdam 2021, 22p.
Karel Appel. A gesture of color, paintings and sculptures 1947–2004, ed. by Dorothy Kosinski, with a text by Klaus Ottmann, exh. cat. The Phillips Collection, Washington; Munich/Berlin 2016, 80p.
Karel Appel. Retrospective, ed. by Franz W. Kaiser, with texts by Klaus Ottmann, Benno Tempel a.o., exh. cat. Gemeentemuseum The Hague; Cologne 2016, 304p.
Karel Appel. Der abstrakte Blick, ed. by Ulrich Schumacher & Rouven Lotz, with texts by Franz W. Kaiser & Rouven Lotz, exh. cat. Emil Schumacher Museum Hagen; Dortmund 2016, 100p.
Karel Appel. Werke auf Papier, ed. by Jonas Storsve, with texts by Andreas Strobl & Anne Lemonnier, exh. cat. Musée national d'art moderne – Centre Pompidou, Paris / Staatliche Graphische Sammlung München, Pinakothek der Moderne, Munich; Munich 2015, 156p.
Karel Appel. Werk op papier, with texts by Franz W. Kaiser, H.J.A. Holland & Mariette Josephus Jitta, exh. cat. Gemeentemuseum Den Haag; The Hague/Zwolle 2001, 136p.
Karel Appel. The complete sculptures 1936–1990, ed. by Harriet de Visser & Roland Hagenberg, with texts by Alan Jones, Donald Kuspit & Carlo McCormick; New York 1990, 433p.
Michel Ragon, Karel Appel. The early years 1937–1957, Paris 1988, 548p.
Karel Appel. Works on paper, with texts by Marshall McLuhan & Jean-Clarence Lambert, New York 1980, 255p.
Karel Appel. Street art, ceramics, sculpture, wood reliefs, tapestries, murals, Villa El Salvador, with texts by Pierre Restany, Allen Ginsberg & Frédéric de Towarnicki, New York 1985, 256p.